Despite an endless news cycle of horror and despair, when you step back and have a look at the big picture, we humans have it about as easy now as we ever have. The common cold is no longer a death sentence. Instances of women being called witches and burnt at the stake are presumably at all-time lows. And budding authors no longer have to pander to the whims of an omnipotent publishing house in order to see their wonderful words sent to print.
Self-publishing is a reality, friends. If you've written a tome and feel that it's fit to print, you no longer need the surly nod of a traditional publisher in order to make that dream a reality. All you need is a computer, a dependable internet connection (even freakin' dial-up will do), and the help of a little website called CreateSpace.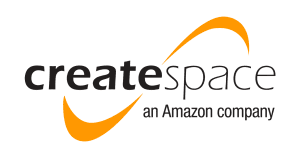 What Is CreateSpace?
In the year 2000 a small group of writers formed a company called BookSurge, with the aim of bringing publishing to the masses. In a rare case of having a good idea and then acting on it, BookSurge offered self-publishing, both in ebook and paperback form, while also allowing authors to retain their content rights and the bulk of the book's profits.
'Brilliant idea, you guys', Amazon presumably whispered to themselves before taking the company over in 2005. In 2009 it was merged with a similar film-focussed company to become CreateSpace, a business that offers exactly what it says on the packet. Amazon has since tied CreateSpace in with its ebook store, offering authors a one-stop-shop for all of their book publishing and selling needs.
How to Publish Your Book through CreateSpace
Okay, so despite the inherent risk of making an ASS out of U and ME, for this exercise we're going to assume that you've already got a delightfully written book lying dormant in your 'Books That I Wrote' folder. It combines the wordsmithery of James Joyce, the scope of Leo Tolstoy, and the whimsy of Roald Dahl. Nice.
Let's publish this sucker.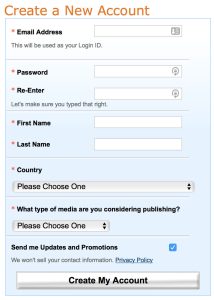 Step 1: Create an Account
It's incredibly easy to start a CreateSpace account. It's entirely free, and once it's created you'll gain access to a range of tools that allow you to publish your manuscript in as simple and efficient, or thorough and studious, a manner as you'd like. Just click here – and fill in your deets.
Step 2: Upload Your Book
While the words may be game-changing, you need to ensure the formatting of your book is up to scratch before you click the upload button. Margins, page numbers, headings, SUB-headings – these things don't format themselves. If you feel a little overwhelmed by the world of formatting (and there is a surprising amount to know), Damonza offer a professional service to help your book along. Alternatively, you can just download a ready-to-print template from CreateSpace that you can write directly into.
All of the different elements of a complete book – the introduction, the dedication, a table of contents, a copyright page, the cover art and others – also need to be accounted for. Cover art is your book's first impression on a buyer, so this is one area that is well worth investing some capital in to hire a professional.
The uploading process itself is incredibly simple, with a step-by-step guide helping you to upload both the text and cover elements. You'll also have the opportunity to pick up a completely free ISBN (International Standard Book Number – a requirement for every published book in the world) that would usually set you back $99.
Step 3: Review and Revise
Your next step is to submit your book for a review. The helpful CreateSpace team will check over every file, ensuring that there aren't any obvious tripping points when it comes to formatting or text inconsistencies. They aren't there to spellcheck, but rather to ensure that the future print runs can be processed without a hitch. It could be that your flagrant use of French in an effort to seem classy has resulted in some unprintable special characters. It could be that you've used a coloured font that causes an issue. It could be that your 13 year old child has replaced 'and' with 'bum' on your manuscript without you knowing.
If any issues are found the team will email you, and allow you to resubmit. This process is usually done within 24 hours. Once both you and the CreateSpace team are happy, you can pre-order a single copy of your book to check over. As the CreateSpace community forum indicates, it's helpful to order 2 or 3 copies and get multiple eyes scanning it. Sure, you're a fantastic editor, but even the sharpest of eyes can miss a trick every now and again.
Step 4: Publish and Distribute
You've checked your proofs. You like your proofs. Let's get this Pulitzer contender in front of some eyes.
As far as bang for your buck goes, CreateSpace offers the greatest reward for effort of any self-publisher. Rather than charge directly for their services, CreateSpace instead take royalties on any sales. If you win, they win – and subsequently there's no risk on your end. What a deal.
You'll be asked to set a price for your book (and its subsequent royalties), and this will be guided largely by its physical size. Are you a fan of oversized print? You'd best hope that your readers have oversized wallets. You can play around with the royalty calculator for as long as you want though, and find a perfect middle ground.
The price finalised, you then need to select your distribution channels. Selling your book directly through CreateSpace is included, as is uploading it for sale on Amazon. But for those that want to go one step further, upgrading to a CreateSpace Pro plan ($39 upfront, $5 per year subscription) allows you to peddle your wares through thousands of stores, both online and physical. While there's no guarantee that your book will get picked up by Barnes & Noble or a national library, the minor investment involved in including it on their distribution lists may still be worth your while.
For those of you who have completed steps 1 through 4, shake my hand. You can now print those business cards that have PUBLISHED AUTHOR under your name, and order that gold-plated AUTHOR-1 car numberplate you've been dreaming of.
You're not dying of influenza, you haven't been burnt at the stake, and you've published your own book. What a time to be alive.